Printing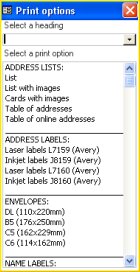 Once you have selected records, which identifies which records to print, you can Print them according to a specific report.
From the Navigation options select Print options. You will be presented with a list of reports. Select a report from the list and it will open in Print preview which lets you view the report before it actually prints.
Note: various database products have different reports. The example on the right is from the ContactMD (used for names, addresses, etc.)

Once you have viewed the layout of the report, you are now ready to print. Simply click the Print button on the Toolbar (top of your screen).
Exiting
Tips

Add your own report heading: select the Report headings option from the Navigation options. You can enter as many headings as you require. Open Print options and select your heading before choosing a report to print.
New term
Report: a report is used to print information out according to a certain layout.